CEE Hospital
Jacob Lewis Englehart, born in Cleveland, Ohio November 2, 1842, came to London Ontario at the age of nineteen and built a small refinery. Englehart searched for crude petroleum to supply his expanding refinery. When the City of London refused to build a pipeline from the Petrolia oil fields to London Englehart sold his refinery and moved to Petrolia in 1876. The J.L Englehart Co. controlled its product from source to customer. The Silver Star plant, the largest refinery in Canada had a capacity of 2500 barrels. Jake still dreamed of the Paramount Canadian Oil Co. In 1881 he and fifteen other men would organize and form an agreement for the Imperial Oil Co. Englehartís refinery and plants owned by the other members became the nucleus of the new company.
In 1891, Jake married Charlotte Eleanor Thompson. Their home, Glenview, was an imposing red brick Victorian mansion with a circular turret overlooking the extensively landscaped property. Jake and Charlotte took up golf and built a nine hole course at the foot of the hill. The Engleharts were extravagant and generous with their extensive gardens, opening them to the citizens on Decoration Day to gather flowers for floral tributes.
Jake had another interest in the North. In 1906, he became Chairman for the Temiskaming and Northern Ontario Railway. By 1910 the railway had earnings of one and a half million. December 31, 1908, Charlotte died. The contents of her will, revealed that she deeded the residence, property and golf course to the town for the establishment of a hospital after Jakeís death. Seeing that Petrolia needed a hospital immediately, he vacated Glenview and transferred the property to the community. In 1911, the thirteen bed capacity Charlotte Eleanor Englehart Hospital opened.

Also for more on the Jake Englehart story check out the Englehart website below ,
http://www.englehart.ca/jenglehart.html

Also for the 75th Anniversary Book about CEE please click here on the book's cover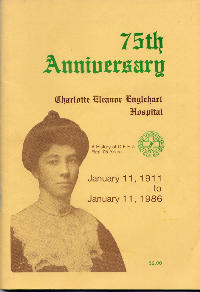 Further to the above here is an interesting piece by John Phair a local Journalist ,Historian and Town Councillor
Englehart celebrates 100th anniversary

It seems Oil Springs isn't the only community with a connection to Petrolia
planning a big celebration in 2008.
The Town of Englehart will mark its 100th anniversary next year, and as most
will know, this Northern, Ontario community of about 1,500 was named after
Jacob Englehart, one of Petrolia's early oil barrons.
Englehart was a man who made a significant contribution to Petrolia's early
development and had a lot to do with enhancing the quality of life we continue
to enjoy today.
I have often thought that as a community we have really given scant recognition
to a man who bequeathed the town a hospital, golf course, and a substantial
trust fund.
The Town of Englehart, it appears, has done a much better job in recognizing
Englehart's generosity and the benefits he bestowed on their community.
Its council has charged an anniversary committee with organizing an entire week
of celebrations to run from July 25 to Aug. 4, 2008.
Events planned include parades, picnics, historic walking tours, and a gala
reunion banquet, just to name a few.
I suggested some time ago that the Town of Petrolia should send a delegation to
bring greetings on behalf of our community and also use the opportunity to show
our appreciation to Jake and Charlotte for the lasting legacy they have left in
our fair town.
Jake Englehart was born in Cleveland, Ohio in 1847 and arrived in Canada at the
tender age of 19.
There has been much speculation over the years as to how Englehart, at such a
young age, acquired the money to set himself up in business in such a big way.
Nevertheless, shortly after arriving in London, Ontario, he founded the J.L.
Englehart Company, building a refinery there and opening an office in New York.
It was a time when kerosene was in great demand to replace the dirty and smokey
whale oil that had been used as an illuminating oil for centuries.
Englehart soon acquired oil properties at Petrolia, which was then in the midst
of an oil boom, and where he also established a refinery, said to have been the
largest and most efficient in the world at that time.
By 1880, he was to play a pivotal role in establishing Imperial Oil Ltd., one of
Canada's great corporations.
Englehart married Charlotte Eleanor Thompson in 1891 and during their years
together built Glenview, their beautiful red brick mansion.
Following Charlotte's death in 1908, he gave their home to the Town of Petrola
to be used as a hospital and also endowed it with Imperial Oil stock so it
would not become a burden on the taxpayer.
Interestingly, as great as his contribution was to the Town of Petrolia and the
development of the oil industry in Canada, he is best remembered in Northern,
Ontario as the builder of the Ontario Northland Railway.
When James Whitney was elected premier of Ontario in 1905, he found the
fledgling railroad in a financial mess.
Englehart, known as a staunch Tory and a man of substantial business acumen, was
the first person Whitney approached about taking the helm of the troubled
railroad and rescue it from its financial woes.
Englehart accepted the challenge and reputedly worked day and night at setting
the failing enterprise back on course.
He pushed the railroad further north and eventually put it back on a sound
financial footing.
However, in Northern, Ontario, Englehart is most revered for the largess he
demonstrated when a disastrous forest fire swept through Northern Ontario in
1911, leaving many, homeless, penniless and without food.
Englehart worked diligently organizing relief efforts and used his trains to
carry hundreds to safety.
He also spent his own money freely buying food for those who had been left
destitute.
A local legend has it that during the height of the great disaster he nailed a
sign on his station at Englehart that read: "No one need pass here hungry -
J.L. Englehart."
Jake Englehart died in Toronto April 6, 1921 at age 73.
by John Phair


---
---