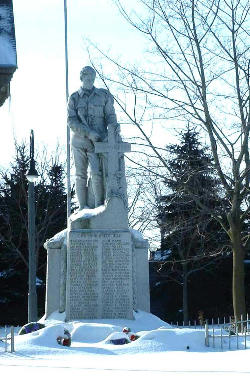 Here is the
Petrolia Cenotaph in Victoria Park
. It has been designated. The granite soldier was designed by Toronto sculptor, Emmanuel Hahn. It has symbolic details such as the cross the figure holds, the flag draped behind him and the poppies and chain at his feet. The names of 88 area men are inscribed on the monument from WW1.
OUR HONORED DEAD
WILLIAM G. ANDIRON
J. START BELL
ARTHUR J. BERNARD
SIDNEY BROWN
JAMES CRAIG
GEORGE CLOTURE
EARNEST CLOTURE
JOSEPH DOWELING
JAMES DOUGLAS
ROY DUNCE
WILLIAM FRAMER
EUGENE FISHER
WILLIAM FERNS
BERT FISHER
JAMES GLIMPSE
THOMAS GLEES
LEO GLEES
DAN GALLIVANT
NEWELL HASTINESS
GEORGE HENDERSON
GEORGE HOMSON
E.G. HARRIS
ALBERT HOUSTON
EDGAR JACKSON
HOWARD KNIGHT
WILFRED KEENE
FREDERICK KEENE
HENRY KARR

JOHN MANN
CLARENCE MAITLAND
JOHN MILLER
VERNE MANDEVILLE
HENRY MCDONALD
STUART MCPHERSON
REGINALD METCALFE
HECTOR MORRISON
CLINTON MALTON
JOSEPH MORTON
ROBERT MONTGOMERY
MURRAY MCQUEEN
CHARLES W. MCLEAN
ELDON PORTSMOUTH
NEIL RACHER
ARTHUR RAWSON
GEORGE REID
CLARENCE RUSSELL
THOMAS SCOTT
GEORGE E. F. STONE
GEORGE SEYMOUR
THOMAS STAUFFER
GEORGE E. TERRY
JOHN VANSICKLE
JOSEPH VOLWAY
JAMES W. WADE
HOWARD WARD



Emmanuel Hahn info as submitted by Linda Smith, Chairperson of the 2005 'Year of the Veteran Committee'
1881 born in Germany
1888 immigrated with family (incl 2 bros) to Toronto
1899-1903 studied at Toronto Technical School & Ont College of Art
1903-06 studied in Germany
1910 started teaching at OCA
1912-51 head of sculpture dept at OCA till retirement
Professional CV:
. 1901 McIntosh Marble & Granite Co making bronze reliefs
. 1902 Robert Burns monument in Allan Gardens, Toronto
. 1903 worked for Canadian Foundry Co.
. 1906 Thomson monument
. 1908 - 1912 Assistant to Walter Allward, Toronto
. 1913 Indian Scout - sold to National Gallery in 1917, Ottawa
. 1926 Edward Hanlan monument at CNE, Toronto
. 1926 married Elizabeth Wyn Wood, sculptor from Orillia
. 1927 elected into Royal Academy of Canadian Art (RCA)
. 1928 co-founded Sculptors Society of Canada with E.Wyn Wood, Henri
Hébert, Alfred Laliberté, Frances Loring, Florence Wyle
. 1929 Sir Adam Beck monument on University Ave, Toronto (assisted by
Sing Hoo his protegé - no credit due to Chinese heritage)
. 1937 Bluenose for dime (10cents) - still used today
. 1937 Cariboo for the quarter (25cents)- still used today
. 1939 Voyageur (Indian paddling canoe) for the silver dollar
. 1939 Parliament Buildings - also a silver dollar to commemorate the
visit of King George VI & Queen Elizabeth
. 1946 Stephen Leacock Medal
.
1948 Spirit of the Provinces - wood relief sculpture for Ban

k

of
Montreal - worked with E.W.Wood, Jacobine Jones, Donald Stuart, Florence
Wyle, & Frances Loring)
Exhibitions:
1907 onwards exhibited with the Ontario Society of Artists (OSA) & RCA
at
Art Gallery of Toronto (AGO today) & at the National Gallery of Canada
. included in private & public collections
Other points of interest:
. 1926 EH winner of competition to produce a war memorial in Winnipeg;
did not proceed due to being born in Germany; but was paid $500.
. 1927 E.W.Wood won in the second competition for the same memorial;
again it did not proceed because she was married to a person born in
Germany; but again was paid $500.
(it was eventually awarded to Gilbert Parfitt who was British born)
. 1965 Sing Hoo produced the full rendering of King George VI for
Elizabeth Wyn Wood (during her terminal illness) but never received
credit; located in Niagara Falls
Emmanuel Hahn 1881-1957
Paul Hahn 1875-1962: cellist, sold music & pianos, extinct & vanishing
bird expert (brother)
Gustav Hahn 1866-1962: painter, also mem of OSA, RCA (brother)
Elizabeth Wyn Wood 1903-1966