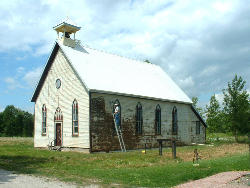 Here we see the church at Discovery being high pressure
washed, and repainted and windows reglazed by Leo Bradshaw
a tireless volunteer .




This original ca.1870's Petrolia postmaster desk

was discovered in Dawson City. Yukon five years ago.
Sheila Rose, formerly of Petrolia. was working with Kathy Webster and her grade 5/6 class producing a movie, she was invited to Kathy's beautiful log home for dinner where conversation turned to hometowns. Kathy realized she had something from Petrolia, the desk!
The desk had been purchased for Kathy as a Christmas present from an estate sale in Toronto in
1979 and traveled with Kathy to Whitehorse, Yukon. In 1982 she moved to Dawson City and brought the desk to her new log home.
At the time of discovery Ms. Webster was not ready to part with her treasure, which had been
appraised at $900.00. Ms. Rose asked her for first option if she ever decided to sell.
Liz Welsh, Chairperson of the Petrolia Heritage Committee, had an opportunity to see the desk at Ms. Websters in November of 1999. Five years later the Petrolia Heritage Committee purchased the postmaster desk. Kathy Webster had generously reduced the price to$300.00 as it was going to a museum.

Canada Post agreed to ship the desk at no

charge to the Heritage Committee

and the desk arrived back home in Petrolia Monday, June 4/01. Its permanent home will be in the Blanche House at Petrolia Discovery.